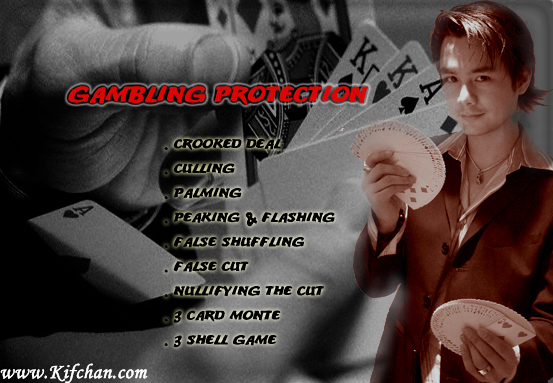 Kif Chan is available to give shows or lectures on how people cheat at cards. This is not only an interesting and entertaining performance, but very useful for honest card players, who may like to know what should be bare in mind if they play card games with strangers!

Moreover, Kif Chan lectures about his original card methods and techniques for other magicians. Lectures last for one hours, and are suitable for all magicians and audiences. They contain both straightforward and more complex routines. Alternatively, seminars are also available for 4-10 people at a time, which give the card enthusiast an opportunity to go through the routines with Kif personally.

Kif Chan gambling lecture is a live demonstration of some of the most dangerous moves in card cheating. He also explains how these moves are used in a game of cards and gives you advice on how to protect yourselves against being cheated. This lecture is very educational as well as entertaining.

Here are some of the topics covered in Kif's Gambling Lecture:

Crooked gambling demo
- A real, live performance on how people can cheat in a card games, it is a real scam and not a magic trick!

The theory and business of card cheating
- With detailed descriptions of all the relevant and important points the card players should be aware of before getting involved in a game.

Stacking, crooked shuffles and cuts
- A live demonstration of some deadliest hand techniques. Kif will show you some methods of stacking a deck to ensure a winning hand, and how do cheats overcome the cut which would spoil their set up.

Crooked deals
- The cards always appear to be dealt from the top of the deck but, of course, they're not! Kif demonstrates all these deals for you and tells you how they are used in a real game. Finally you will learn how to detect them. Not many people in the world are able to show you these moves so well.

Card switches and deck switches
- In this part of the lecture you will learn how cards are switched amongst cheats during play. Also how a deck is stacked and switched into play.

Marked cards and other gaffs
- Many gaffs have been designed throughout history. Learn what they are and how they may be used in card games.

Set ups
- What do cheats do to ensure they get the right victims. How do cheats communicate and how do they organize their operations.
3 Card Monte and 3 Shell Game
- Both Games are particularly dangerous for laypeople, very partical for cheaters to cheat your money, you have to see to believe it!

How to protect yourself
- For those who like the thrill of honest gambling, and how to minimize the risks of being cheated.

This one hour long lecture is concluded by a question and answer session.

This may be the only chance you'll have to see this type of skill performed live.