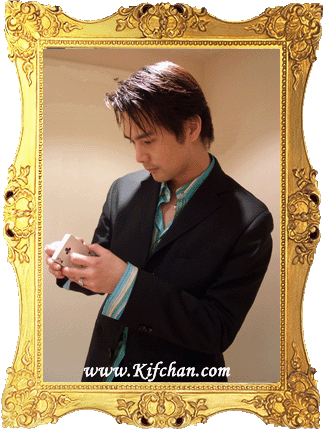 Kif Chan, the most leading Card manipulator and Close up magician in Asia, is constantly in demand to appear at corporate and private functions. As a sleight-of-hand expert and entertainer, he practices religiously five hours a day, wearing out over three hundred decks of cards each year. Through his dedication, he has brought the art of sleight of hand to a whole new level of perfection and gained a huge round of reputation.
Kif Chan featured in his " Las Vegas style" Card manipulation and Close up magic, one of the few magicians in Asia who can bring the most "world class" magic to Hong Kong and Asia . Many of his magic are originated by him and can't be seen elsewhere.
Besides entertainment performance, Kif Chan is also the "only man" who has been studied the most sophisticated, serious "Con games" in the entire Asia . "Con games"(such as the famous 3 Card Monte, 3 Shell Game etc) is a crime, the game that can actually cheated your MONEY. Kif Chan is the only demonstrator in this particular field and has the ability to educate and show you how cheaters/ swindler can cheat, this is not magic but "Real", and this may be the only chance in your life to witness how cheaters can take your money from your pocket!
The following are the titles that Kif Chan has gained and reflected his many years of dedication:
First and ever Hong Kong Representative and last five finalist in the following two of the world class international magic contests, which are
"International Brotherhood of Magicians Competition, Nevada, 2005"
"Society of American Magicians Competition, Boston, 2005"
The First and ever Chinese Card Manipulator who compete in the "FISM World Championships of Card magic"
" 2006 World's Top 10 Card Manipulator, Stockholm, Sweden"